Public Hearing Signs (PHS)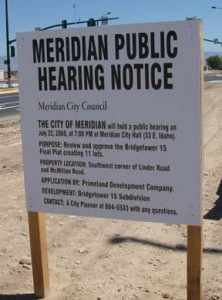 Premier Signs Inc. is proud to offer immediate assistance for clients needing Public Hearing Signs.
*Clients are required by the City to post PHS 10 days prior to the hearing date. The sign must be in installed with all required information within this time frame.
PHS Package from Premier Signs: The package includes posts, sign, installation, notorized affidavit of the posting and pictures. We will notify the city/planning department for the client.
We strive to make the process smooth and worry free for the client.
For immediate assistance please call 855-0380 and email your information to info@signidaho.com